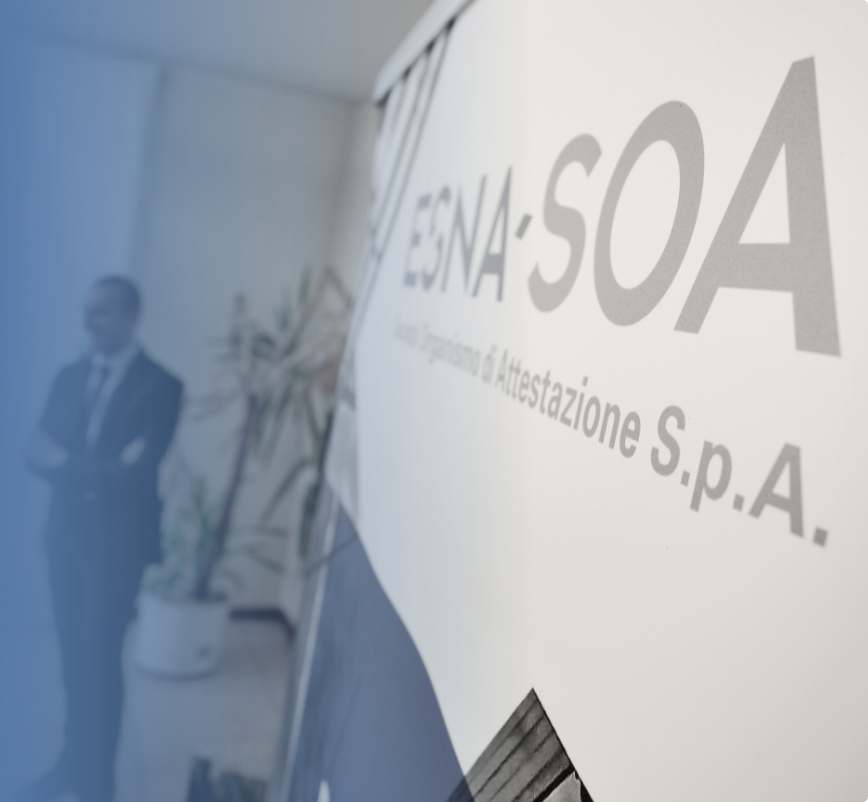 Esna Soa

, certification body
Esna Soa, a market leader with over 2700 clients and a presence throughout Italy with nine operating offices, was created from the merger of Soa Nord Alpi S.p.A. and Euro Soa S.p.A., with the specific intention of playing a key role in the field of company qualification for public works. Firmly committed to enhancing the potential of companies, Esna Soa certifies the technical requirements and execution capacity of its clients. Esna Soa works alongside companies throughout the qualification process, providing all the necessary information and support to obtain SOA certification in accordance with the regulations. A solid reality, committed to guaranteeing the independence of its work and promoting respect for the rules, applied in a clear and transparent manner.
Esna Soa provides
ongoing training
to keep its team of
employees
updated on
applicable regulations
and ensure that the company is equipped with the highest level of professionalism. Developing the skills of our
staff
of
over 50 employees is the cornerstone of our business.
Esna Soa organises events and supports initiatives aimed at companies and operators in the public works sector. It keeps its clients updated on the latest developments in law and regulation so that they can deal with market and regulatory changes in an informed manner.
Esna Soa invests in the most innovative information technology as a fundamental support tool for business processes. The company shapes procedures to efficiently handle customer requests by providing clear answers and optimising the certification timeline.
The corporate values that set Esna Soa apart
SOA certification bodies, are private sector companies authorised by the Italian National Anti-Corruption Authority. In carrying out their certification activity, SOAs perform public functions, certifying the possession of the qualification requirements of entities carrying out public works contracts for amounts exceeding 150,000 euros. SOAs operate in a sector regulated by strict legislation to ensure that the qualification system guarantees maximum transparency, correctness and independence of judgement.
The legislation imposes obligations and limitations on the business activities of SOAs, ensuring they are financially solid and equipped with professionally qualified staff, and requires strict, periodic checks on employees, directors, shareholders and supervisory bodies to safeguard independence of judgement. The qualification of companies started in 1962 with a regulation establishing the Italian National Register of Builders at the Ministry of Public Works. SOA qualification was established in 2000. It was introduced by (Italian) Presidential Decree 34/2000 establishing the certification bodies (SOAs), which are private sector companies authorised and supervised by the sector authority. SOA certification enables companies demonstrating certain standards of execution capability to participate in public works contracts, and is issued with respect to specific categories of work that identify the types of works for which the company is qualified to participate in tenders, divided into classifications with different ranges of amounts. In 2010, (Italian) Presidential Decree 207/2010 repealed the previous regulation, supplementing and fine-tuning the rules of SOA qualification. In 2016, the (Italian) Public Contracts Code (Legislative Decree 50/2016) was issued, providing for the issuance of a new regulation updating the provisions on SOA qualification.
What is
SOA certification

?
SOA certification is mandatory for any company intending to carry out public works assigned by contracting authorities, either directly or by subcontracting, for amounts of €150,000 or more. Companies wishing to obtain the qualification certificate must sign a contract with the SOA, which will carry out the necessary investigation and checks to verify the requirements.
Trustworthiness, transparency and consistency. Esna Soa
supports its clients during the entire certification process
, providing information and regulatory updates throughout the certification validity period.
For Esna Soa, qualification means
 enhancing the execution capabilities
of its
clients
for participation in public works contracts and supporting them in
demonstrating the full potential
of their requirements.
Speed, completeness, punctuality. Esna Soa invests
in the best digital technologies
and the latest IT solutions to guarantee a
reliable and quality service
thanks to the expertise of its team.
Over 20 years of history, always looking to the future:
Esna Soa continues to grow, a reference point for those who want to give value to their work.